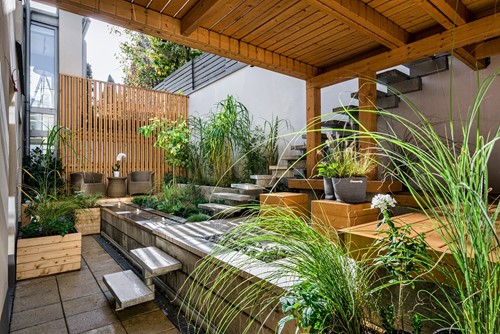 Image by Marzenna Gaines from Pixabay

With spring just around the corner, your thoughts may turn to enjoying the great outdoors. By making a few improvements, you can create your own restful, outdoor oasis even as you add value to your home.
Research has found that homeowners often gain the most value by improving backyards and investing in outdoor upgrades. Among enhancements you can make outside your four walls, kitchens and living rooms rank as the most popular — and they allow you to move your entertaining outside, where you can enjoy seasonal beauty.
What are some steps you can take to create an appealing outdoor living space?
Upgrade an Existing Patio
Before you begin creating your outdoor common area, consider your goals. Do you prefer a place to entertain or a serene, private retreat — or a combination of both? Your intended use of the space will guide you in choices for design, landscaping and furnishings.
Take a look at your patio or deck structure. Is it stable, sturdy and in good shape? Could it use a comprehensive refurbishment or at least a new coat of paint?
You may want to take some measurements to ensure that everything you plan to include in your outdoor retreat will fit in the intended space. If you come up a little short, consider working with a contractor to expand or rework your existing patio. Alternatively, you may opt to build a completely new home base for your outdoor living space.
In addition, take a look at the areas surrounding your patio or deck. Are the walkways in good shape? Is there direct access from parking areas to the yard so that guests need not come through your house to join the party? Does the path for foot traffic keep people off your lawn? If you'd prefer a different traffic pattern, now is the time to make changes.
Add Some Personal Touches
Once you've created the basic footprint for your new outdoor living area, it's time to start making the space your own with some personal touches. Start by considering comfortable seating options to accommodate your maximum number of guests.
Beyond seating, the sky is the limit when it comes to appointing your outdoor space. If you love to cook outside, consider adding a full kitchen setup with grilling station to your entertaining area. Enjoy the warmth of a cozy fire on chilly nights? Add a fireplace — complete with pizza oven. Meanwhile, landscaping details such as water features enhance the natural beauty of your outdoor area.
With a little creativity, you can create an outdoor living space that adds value and enjoyment to your home for many years to come.