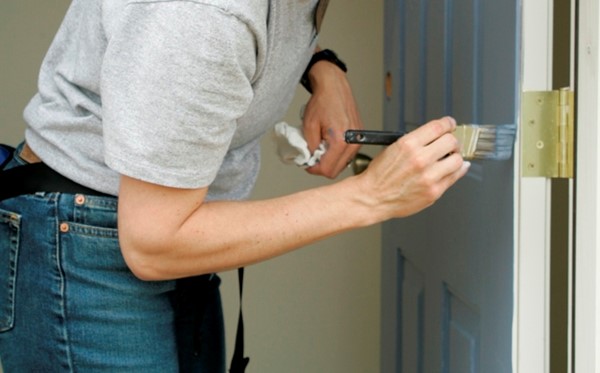 You get it! You know your home needs some TLC and you'd love to be giving it some, but your schedule is tight. You don't have time to tear apart the bathroom for a remodel or rip up the kitchen while your kids are in school. Here are some simple projects you can accomplish in a day, however, to give your home that little bit of that lovin' feeling you know it needs.
Paint your front door a hot new color: Brightly-painted doors give a tired exterior some new life. Choose a feng shui red guaranteed to turn heads, or ocean blue that invites in serenity and peace. Or, go funky with a limey-chartreuse or a pop of sunny yellow. Choose a high-gloss paint that's easy to clean and designed for exterior weather.
Change out your door hardware. Instead of painting that door, give your beautiful wood doors a loving upgrade with new handles, kickplates and dead-bolt locks. Swapping out nickel hardware for brass (or vice versa) gives your door a whole new look.
Spruce up the house numbers and mailbox. If no one can find you because the house numbers are faded or were painted over with the exterior paint, add some glam to your exterior with decorative house numbers. Or, add a faux stone to the front garden with solar-lit numerals to guide your guest's way. Mail slots, receptacles, and standard mailboxes need love too. Change out that brass mail slot for a rustic cast-iron one or brighten it up to nickel to match the hardware you installed last week. Street-side mailboxes benefit from some curb-appealing flowers planted alongside or in a decorative pot.
Give yourself new faucets. Upgrade the kitchen faucets to an extra tall version with a pull-out sprayer to give your kitchen some glam. Choose from traditional to industrial style to match any home style from a craftsman to a live-work loft.
Change the shower curtain rod. Even if you can't do that complete bath remodel with the stylish oversized step-in shower, you can give your tub-shower enclosure more space by exchanging a standard straight curtain rod with a curved hotel-style one. The extra space inside your shower will have you feeling like you're on vacation all the time.
Replace those mini-blinds. Look for easy to install cellular versions in a variety of color choices or swap out those dingy beige ones for bright white. Either way, you'll perk up the room and invite the sun inside in a new way.
To keep these projects within your budget, make a list of the top three, then watch newspaper circulars or emails for which items are on sale. And don't forget to check with online sources.
Except for paint, most things on this list are available from online retailers too, so bargain shop and have them on hand for when you've got that one day open in your schedule.